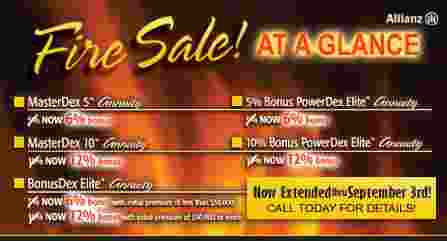 ONLY 1 WEEK LEFT !!
ALL Applications for the 12% BONUS
MUST BE RECEIVED
by Allianz no later than Monday, AUGUST 2nd
These Annuities from Allianz Life
are HOT...
and NOW are even BETTER!!
Allianz has increased the bonus to 12%
on their hottest Equity-Index Annuities
Allianz MasterDex • 12% Bonus • 15.92% Return
10% Penalty-Free Annual Withdrawal

Call TODAY (703) 799-2500 to learn how you can get a 12% Bonus on ALL deposits for the first 5 Years !!
(Click Here for more information)

This rare opportunity shouldn't be missed !!
($2000 Tax-Qualified minimum deposit/$5000 NQ)
Click Here for Eligible Annuities (PDF file)