Allianz FIRE SALE EXTENDED!!
(ONLY 10 DAYS remain for 15.92% Return!)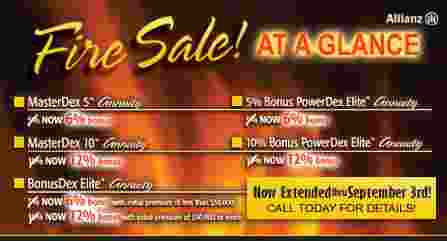 15.92% First-Year / 6.60% Tax-Deferred Yield
The Allianz Life FIRE SALE has been EXTENDED!
The response was so great, for a LIMITED TIME, Allianz has EXTENDED increased Bonuses on selected Annuities
IF YOU MISSED IT LAST TIME, HERE'S YOUR LAST CHANCE!
NOW THROUGH September 3, 2004 ONLY, Allianz Life has increased the Immediate Cash Bonus by 20% for a full 5 Years on the following high-performance Tax-Deferred Annuities:
PowerDex 5% and MasterDex 5 NOW offer a 6% Cash Bonus (up from 5%)

PowerDex 10% & MasterDex10 NOW offer a 12% Cash Bonus (up from 10%)
BUT ONLY THROUGH SEPTEMBER 3, 2004 !!!
Allianz Life Annuities are already among the best annuities available, and are NOW EVEN BETTER! The New MasterDex Annuity offers a Monthly index cap of 3.3%, for up to an unbeatable 39.6% annual return!
HURRY! Call us today at 1-866-473-6832 (1-866-4PENTECO) to apply before the deadline. If you are considering opening an annuity any time soon, DON'T MISS OUT ON THIS RARE OPPORTUNITY!
CONCERNED THERE'S NOT ENOUGH MONEY NOW? OPEN THE ACCOUNT NOW WITH THE MINIMUM DEPOSIT, AND STILL GET THE 12% ON ALL FUTURE DEPOSITS FOR A FULL FIVE YEARS!
visit us on the web at www.pentecofinancial.com for complete info
************************************************************************************
See the following ANNUITY COMPARISONS, below, for the latest information on the best annuities available (Extra Bonus Products highlighted in RED).